Saturday, January 21, 2006
For reasons I won't go into...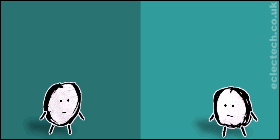 ...today has been rubbish. On the plus side I made this and quite like it. It's a love story; a modern day Romeo and Juliet or somesuch.
But with fewer words. And no deaths.
There is also a
desktop wallpaper
version of the wee guys.
Labels: blether, desktop wallpaper