Friday, October 28, 2005
The trauma of typos in triplicate
Those of you who pay attention to my stuff will probably have seen the
Charles Clarke
Modern Labour Minister animation. I know this because I'm a nosy person and know how busy my site is and how many people have watched it. Lots. I also know that the net is full of pedants. Jam packed full. They email me to tell me things such as
"your mouse is playing the kazoo the wrong way"
or
"strictly speaking Kilroy was a politician first, before he was a low grade TV presenter"
.
So... why did nobody bother to tell me that two words were the wrong way round in every instance of the "In fact without one you'll become a practical nonentity" line. I'm appalled. Truly appalled. I blame
DogHorse
.
I have, of course, fixed it now but not before it's been sent off for a film festival, included on a DVD and shown on the
BBC
. Oh, the shame!
Still, I must move on and so must you. I recommend heading over to
a somewhat old, but capacious handbag
. I have been somewhat absent from my usual online haunts recently due to business and busy-ness and it was most enjoyable to stumble across this earlier. It's the recently created blog of Miss Prism, the lovely writer of many a fine satirical ditty, baker of fine shortbread, queen of SCIENCE and voice of
Sylvia Spankhurts
.
Labels: blether, flash animation, neat links
Tuesday, October 25, 2005
Pup Where We Belong
Mr DogHorse and I have a new animation out over at the WorkSmart site.
Pup Where We Belong
(500KB Flash) is a cheesy film trailer stuffed with a shameful number of dog puns and a distressingly cute distressed pup. All that, and a point too.
I've been terribly busy so just a quick review of recent ID card stuff. First up we had the national technology officer for Microsoft saying that placing biometrics on a central database (as the proposed UK system does) could perpetuate the "very problem the system was intended to prevent". Astounding that this statement comes from a technology giant given the amounts of money to be made by the tech companies and consultants (£20.6 million has already been spent, and that's before it's through parliament). Still, not enough to make the critical difference in the 3rd reading where it passed albeit with a reduced majority and some quite splendid speeches that
almost
restored my faith in politicians. Almost.
The Scotsman - ID cards will lead to 'massive fraud'
silicon.com - ID card spending reaches £20.6m
BBC - Labour survives ID card rebellion
Finally, something lovely.
Stellarium
. The night skies in clicky zoomable goodness.
Labels: disgruntled, flash animation, neat links, news links, NO2ID
Saturday, October 08, 2005
Late night ramblings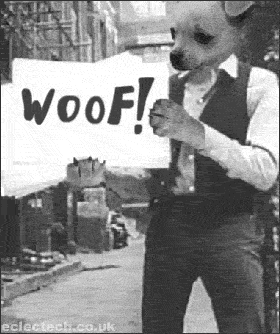 I've been watching a lot of the Dylan material on the BBC recently and have been greatly enjoying it. I have also made something with some of it that made me giggle so I will share it here; Subterranean Bonesick Blues
Here's a version if you're more of a cat person,
Subterranean Homesick Mews
.
Whilst I'm here I also share these two items. One is an notice that I believe is by a Glaswegian artist although unfortunately I can't remember his name. Anyhow,
it tickles me
.
Update: Hurrah, got it! His name is David Shigley. I've changed the link so it goes to the version on his site now, definitely worth a mooch about.
The second is the newly launched web space of the lovely Tart Monkey. He has heaps of talent and a mild pope obsession...
go and have a peek
.
Labels: blether, neat links, silly joke