Sunday, December 31, 2006
Happy Hogmanay!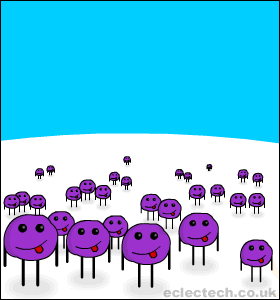 Have a very
Happy New Year
everyone. Here's hoping 2007 is a good one.
If you'd like to see the new year in with some fireworks without venturing out into the cold feel free to go and waggle your mouse over the dancers on my noisy
hogmanay fireworks
.
Have a good one and see you all in the New Year.
Love eclectech x
Labels: blether, flash toy, jeremy
Wednesday, December 20, 2006
Jingle Kazoos
Tuesday, December 19, 2006
I am on holiday!
Sunday, December 10, 2006
Penguin Update
Saturday, December 09, 2006
Won't Someone Please Think of the Post Offices?!