Saturday, December 09, 2006
Won't Someone Please Think of the Post Offices?!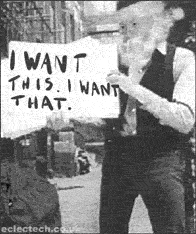 Oh.
They
are
. Unfortunately despite my best animated efforts and the fine songsmithing of Mr
JonnyB
it looks like the government is poised to close thousands of them. Bah! Bad government!
Save the Post Office
, that's what I say! I don't care if nobody listens*.
JonnyB is currently up for the best UK blog at the weblog awards. As suspicious as I am of any award where they encourage you to vote every day I encourage you to vote for him
here
.
I'm off to scribble some pictures so have an 'and finally' link... a
1938 fire alarm
that conveniently traps the person using it. Splendid.
* Not true, obviously.
Labels: disgruntled, flash animation, neat links, news links, post office
Comments:
Quite agree with you. If our post office closes this village will lose it's last remaining shop. Bloody politicians.
Like the Santa. Voted for Johnny but I'm not sure about this 24hr vote again bit.
They should have invented a version of that fire alarm for politicians, they're always putting their hands in the till!
Glad your adopted penguin is doing well. :)
Post a Comment
<< Home