Sunday, December 31, 2006
Happy Hogmanay!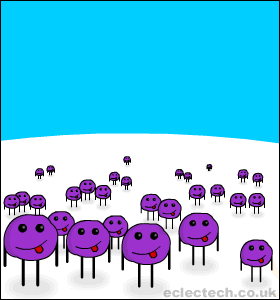 Have a very
Happy New Year
everyone. Here's hoping 2007 is a good one.
If you'd like to see the new year in with some fireworks without venturing out into the cold feel free to go and waggle your mouse over the dancers on my noisy
hogmanay fireworks
.
Have a good one and see you all in the New Year.
Love eclectech x
Labels: blether, flash toy, jeremy
Comments:
Hmmmm...I've discovered at least 20 different copyright infringements for clients of mine on your web site. At $1,500 per offense (and that's just the civil charges) you stand to write a nice little check to our firm.
I'd strongly suggest that you go back and review those photographic images that you've "borrowed without permission". If the offending images are gone by Friday we'll turn a blind eye and forget about it. If not, we'll turn over to an associate in our London office and let her make your life painful.
Thank you.
Post a Comment
<< Home