Tuesday, February 07, 2006
Catching up with myself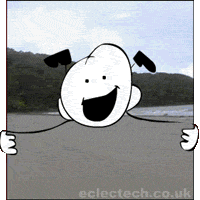 2006 has been a very busy year so far; much busier than I'd like to be honest. I need playtime to function properly, but I think I've finally got on top of everything. Work projects are under control, play projects have started again. This is a good thing.
First up I've got a few improvements to my site online. Not a major overhaul but some long awaited functional improvements. The
Flash animations
are now in a searchable database, there are RSS feeds to some of my
image pages
and I made a new range of
banners
for folk wanting to link to the site. Next up I have a silly idea for a warped poetry recital that I hope to get online soon.
Before I go, one more thing. I have just spent half an hour listening to Mondays Front Row on Radio 4 (
still online
as I type). There's an interview with
Kurt Vonnegut
, writer, artist, satirist, humanist and socialist. His books are wonderful and never fail to make me laugh and make me think. Listen to the interview if you still can. Read his books if you haven't already. I am sitting here in the wee hours grinning to myself having listened to the interview and drifted off into related reverie.
And if this isn't nice, I don't what is.
Labels: blether