Sunday, November 19, 2006
Blame Canada (and España)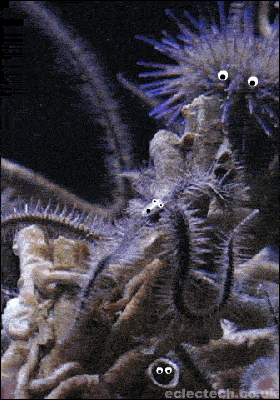 I had a couple of late nights last week getting our latest Greenpeace animation finished; it deals with bottom trawling and needs action now as there are currently talks on sustainable fisheries at the United Nations. Greenpeace are calling for a moratorium on bottom trawling (dragging) along with a massive number of scientists.
Quite right too.
The result of my "oh-my-the-deadline-is-close" speed animating* is
Blame Canada
, a spoof cartoon with a cheap bottom gag, flappy dancing and some mild cursing, bleeped for your convenience.
Good to see this one being covered in
the mainstream news
**, lets hope lots of people take action. You can embed the animation into your own web site if you'd like to help spread the word (
code here
).
There are too many wonderful creatures in the sea to risk losing them.
* And the fine illustrations and soundtrack produced by DogHorse and Booglie of course. And the initial script ideas by Greenpeace. As the animator I have to do my bit last so I always feel the deadlines loom most for me but obviously it's a team effort!
** Update: Oooh, it's been shown on MTV LIVE as well. Splendid.
Labels: flash animation, news links