Tuesday, July 11, 2006
Well, my inbox is full again...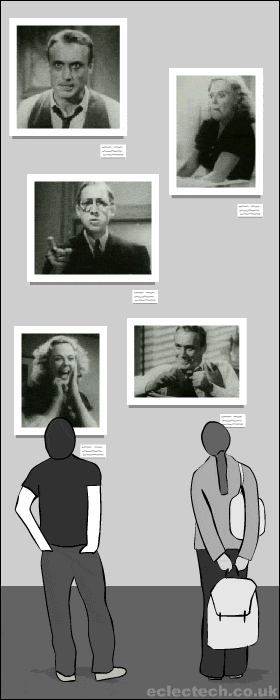 ...and I'm in the midst of a new Flash animation, a teched up Gilbert and Sullivan this time. There are plans for a Yiddish G & S piece later in the year too (I was intrigued by this concept far too much to avoid getting involved).
In my head-down animating-hard absence have this ludicrous art gallery picture that makes me giggle too much for my own good. I adore
Reefer Madness
. I can't help it. There's another RM derivative from a while back
here
.
There's another similar art gallery image
here
too, although the woman with her hand stuck on her head is from a later anti-drugs movie rather then the Reefer Madness classic.
In other news:
ID cards doomed, say officials
Emails from Whitehall officials in charge of ID cards
Identity card scheme faces delay
And an example of why I'm pleased that Whitehall are acknowledging the problem with our Governments ID cards plans...
Online passport applications halted
- 5,000 people are kept waiting after an internet system broke down just three weeks after its launch. I'm feeling even luckier at the successful renewal of
my passport
and pleased that I didn't trust the online system.